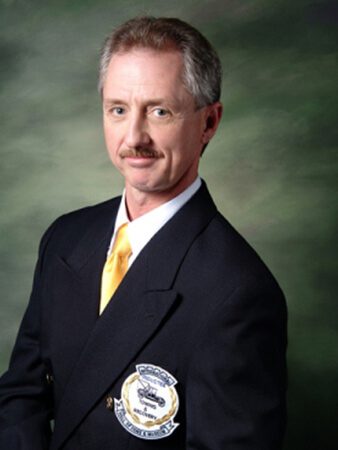 trao Sep 28, 2018
Mike Scott
Mike Scott
Scotty's Carriage Works
Cameron, Missouri
Give an example of how nominee has shared expertise with fellow tow operators.
International Teaching
The Netherlands – May 1999

Belgium, Germany, France, Spain
National Heavy Duty Recovery Trainer
Estes Park, Colorado

Valley Forge, Pennsylvania o Baltimore, Maryland

Orlando, Florida

Las Vegas, Nevada

Reno, Nevada

St. Louis, Missouri

Omaha, Nebraska
Provide details of at least one instance when the nominee has effected positive change in the industry.
Missouri Legislation

Department of Revenue Abandoned Vehicle Legislation Task Force Initiated and presented tow legislation for passage
Weight, width and length, law for towing equipment in Missouri
Safety of drivers, move over for stopped emergency equipment

Kansas City Missouri Neighborhood and Community Services

Tow Services Task Force

Committee for Safe and Efficient Towing

Advisor for TimTow

Highway Administration

World Tow Operator Competition – Reno, Nevada 2002

Competition Judge

Assisted in set up World Recovery Demo for police and fire departments Tow Ranger Program with Wes Wilburn – St. Louis, Missouri

Program Trainer

Helped set up demos and recoveries inside TWA Dome Mothers Against Drunk Driving (MADD)

Tow Operators Working to Eliminate Drunk Driving (TOWED) Clinton County Deputy Sheriff


Professional Expert Witness
How has the nominee served as a role model or mentor to younger tow operators?
Through his many leadership positions, he lives and mentors by example.

Advises on accident recoveries via his phone.

Continues to promote unity in the industry to tow operators throughout the U.S.
What leadership roles within the industry has the nominee held?
Multiple terms as President and a Board Member of the Missouri Tow Truck Association.

Actively assists with legislative efforts to benefit all tow operators in the state.

Represents the Missouri towing community with various state organizations such as the Kansas City Missouri Neighborhood and Community Services, Tow Services Task
Force, Department of Revenue's Abandoned Vehicle Legislation Task Force and the Committee for Safe and Efficient Towing.

TRAA

Served several terms as a board member

Served on the board of the Education Foundation and Education Committee Judge on the National Certification Panel, Level III
Judge of National Driving Competition Judge 2002

Active in the Towing Operators to Eliminate Drunk Driving Program (TOWED).

International Institute of Towing and Recovery, University of Georgia
Board Member