TRAO Region 9 Director – Keith Smith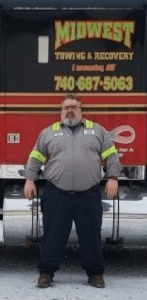 Keith Smith, age 53, is the TRAO Region 9 Director, owner of Midwest Towing & Recovery in Lancaster and has been in the Towing Industry since 1978. Keith started dating his wife, Donna, in 1990 and married his love in 1995. Since then, the result has been 3 wonderful daughters and 2 beautiful grandchildren. Keith's Father and Mother started a truck repair garage in 1978 and Keith was told as a teenager to get out there and get to work!
He was doing oil changes and greasing trucks to contribute to the success of their garage. Approximately 6 months after the business was started, his parents bought their first tow truck. This was to be the start of the passion Keith has for this Industry!
Once Keith took over the family business, he, with the help of family and employees have grown the business and have several trucks in their fleet. Keith is well known in his community and has a very good relationship with the emergency responders in his area. If you have any questions, feel free to contact him.